Review Article
Dormant mechanisms reveal the clinical significance of tumor dormancy: a narrative review
Introduction
When tumor cells enter a growth stagnation period (G0/G1) due to cell growth pressure or lack of necessary growth factors in the new environment, this state of quiescence is called tumor dormancy (1-3). Tumor dormancy is an unstable state, which can re-enter the proliferative state under the appropriate environment (4). If tumor cells are in a dormant state, the patients can maintain the survival state with tumor and the tumor is stable. If tumor cells are transformed from dormancy to activated proliferation, the metastasis is formed and the tumor progresses. In order to control malignant tumors, there are two main ways to control dormant tumor cells: the first is to make it dormant for a long time, and the second is to completely eradicate dormant tumor cells, to put an end to the source of tumor recurrence.
More and more scientists are engaged in the research of tumor dormancy, and have proposed a lot of possible mechanisms for maintaining tumor dormancy (5-11). However, tumor dormancy is still an unstable state, which is difficult to maintain for a long time (4,12). Because of the low proliferation characteristics of dormant tumor cells, it is insensitive to conventional radiotherapy and chemotherapy (13). Thus, it is difficult to completely eradicate dormant tumor cells. We need to find novel mechanisms to maintain tumor dormancy or novel targets to eradicate dormant tumor cells. A growing focus has been paid to autophagy, angiogenesis and tumor immune editing as mechanisms that dictate tumor cell dormancy (14-16). This review emphasizes on the regulation of autophagy, angiogenesis and tumor immune editing on tumor dormancy, and derives its clinical significance through these mechanisms (17,18). The study of the above mechanisms can effectively minimize the risk of cancer recurrence (19) (Figure 1). We present the following article in accordance with the Narrative Review reporting checklist (available at http://dx.doi.org/10.21037/aob-20-46).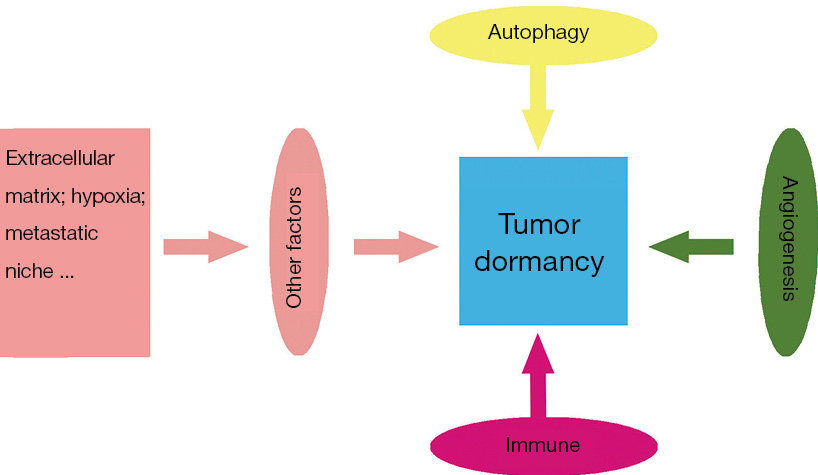 ---
Autophagy promotes the survival of tumor dormant cells
Autophagy is an adaptive response of cells to adverse environment and lack of nutrition. In this process, cells eat their own organelles, so as to ensure proper energy balance and to recycle dysfunctional organelles and macromolecules (31). During the process of malignant transformation, autophagy has determinant effects enabling cell survival. Autophagy can also be activated in tumor cells and causes tumor cells to resist anoikis, which leads to the survival of tumor cells. Severe nutritional deficiency can strongly induce intracellular autophagy make cells reach a new energy balance, and thus enter a reversible dormancy state. When the tissue microenvironment changes, such as tumor cells regain sufficient nutrition or 6-biphosphatase-3 increases expression, cells will be activated and proliferated again. Autophagy can, in addition to starvation, be activated by myriad physiological stress stimuli, which includes hypoxia, high temperature, hormonal stimulation, endoplasmic reticulum stress or pharmacological agents, to name just a few. This good pressure tolerance given to tumor cells by autophagy is beneficial for resting cells to wait for the opportunity to form metastatic foci in distant organs. Autophagy has been proposed to play a key role in tumor cell dormancy, although few studies have addressed this hypothesis experimentally (32-39).
It is demonstrated in mouse and human 3D in vitro and in vivo preclinical models of dormancy that dramatic metastatic burden and decreasing cell survival can be owing to pharmacologic or genetic inhibition of autophagy in dormant cells. Damaged mitochondria and reactive oxygen species (ROS) accumulated within the cells can impairs the survival of dormant cancer cells significantly, while the accumulation is usually produced by the pharmacological autophagy inhibition, in which different autophagy inhibitors, such as 3-methyladenine, bafilomycin and hydroxy CQ are administrated. Autophagy related gene 7 (ATG7) is necessary for autophagy activation. Knockout of autophagy related gene 7 (ATG7) can prevent P-body clearance and MET (mesenchymal-epithelial transition), inhibit the growth of metastatic tumor. Therefore, autophagy may trigger the signal pathway in dormant cells by changing the microenvironment, which promotes the survival of dormant cancer cells and the recurrence of metastatic tumors (39,40). Besides ROS and ATG7, there might be other vulnerability autophagy checkpoints to consider, particularly in the context of chemoresistance in colorectal cancer, liver cancer, brain tumors, and melanoma (41-44).
Ras homologue member I (ARHI) is an inhibitor of the PI3K-AKT-mTOR cascade. ARHI encoded protein is expressed in human breast, ovary and other tissues, while down-regulated or deleted in breast cancer, ovarian cancer and other tumor tissues, suggesting that it is related to the occurrence and development of these tumors. It has been reported that the re-expression of ARHI leads to autophagy death. This may be related to the increase of oxidative stress, the decrease of ATP/ADP and the decrease of mitochondrial function caused by the expression of ARHI. When the cell grows as a xenograft in mice, it keeps the cell dormant. When the level of ARHI in dormant cells decrease, the xenograft grows rapidly. However, regrowth of xenografted tumors can be reduced significantly upon reduction of ARHI levels, by means of chloroquine that inhibited ARHI-induced autophagy, through which a conclusion could be reached that autophagy contributed to the survival of dormant cells. Through further analysis, it was suggested that by treating growth factors [insulin-like growth factor-1 (IGF-1), macrophage colony-stimulating factor (M-CSF)], angiogenic factors [vascular endothelial growth factor (VEGF), interleukin-8 (IL-8)], and matrix proteins found in xenografts to cultured human ovarian cancer cells in which ARHI had been re-expressed, autophagic cell death was reduced. Therefore, ARHI can induce autophagic cell death, but can also promote tumor dormancy in the presence of factors that promote survival in the cancer microenvironment. This characteristic of ARHI gene is expected to be the key point of inducing tumor cell dormancy and anti-tumor metastasis and recurrence (45-50).
However, it has been reported that autophagy defects are associated with tumorigenesis. Because in human breast cancer, ovarian cancer and prostate cancer, autophagy regulatory factor BECLIN 1 is a single allele deletion, while BECLIN 1 (+/−) mice are prone to tumor. Autophagy stimulation maintains cellular adaptability by maintaining protein and organelle quality control. Inhibition of DNA damage and genomic instability, as well as limiting necrosis-related inflammation may play a key role in cancer prevention (51-54).
Individualized anti-tumor therapy by inhibiting autophagy of tumor cells is a hot topic in current research. The mammalian target of rapamycin (mTOR) is now perceived as sensor that functions as something like a coordinator manipulating the balance between growth and autophagy to contend with physiological conditions and environmental stress at cellular level. mTOR is a serine/threonine protein kinase that could be subsumed under the phosphatidylinositol kinase-related kinase (PIKK) family (55). Against which the mTOR inhibitor everolimus displays potent antitumor activity in patients with metastatic disease by impeding autophagy and tumor dormancy onset (18,56,57). PI3K/AKT/mTOR pathway is altered in germline and somatic tissues downstream PTEN and this could be exploited as actionable mutations or to stratify patients treated with approved inhibitors (e.g., sirolimus, PI3K inhibitors, etc.) (58). Copper deprivation reduces ATP level and increases mitochondrial ROS level, which caused an increase in cell autophagy and rendered cancer cells in a dormant state. Copper chelator tetra thiomolybdate and autophagy inhibitor CQ can prevent tumor cells from entering dormant state and kill tumor cells effectively (59).
Interestingly, some studies also suggest that cancer may be controlled by inducing autophagy. Such as protein restriction mimetic resveratrol induces autophagy by limiting calories, which makes tumor cells dormant for a long time period (60). Thus, in this period the patients can maintain the survival state with tumor and the tumor is stable. Tumor dormancy is temporary and difficult to maintain for a long time. Therefore, through inducing autophagy is less effective than inhibiting autophagy in controlling the tumor, since the former tries to cause the tumor cell to dormant for a long time while the latter causes the tumor cell death.
---
Inhibition of angiogenesis can lead to tumor dormancy
Angiogenesis is a sign of tumor growth and progression, and tumor growth is vessel-dependent (13). Angiogenesis is a complex multi-step physiological process that occurs throughout life both in normal tissues and in disease. It is tightly regulated by the balance between pro-angiogenic and anti-angiogenic factors (Table 1). The angiogenic switch has been identified as the key step during tumor progression. The angiogenic switch mainly depends on the disruption of pro-angiogenic factors and anti-angiogenic factors equilibrium. The expression of pro-angiogenic genes increases due to physiological stimuli, such as hypoxia or oncogene activation and tumor suppressor mutations as the mass grows. In favor of pro-angiogenic factors and on the recruitment of circulating endothelial progenitors (CEPs) can activate the angiogenic switch and promote the formation of new blood vessels. The notion that angiogenic endothelial cells could communicate signals to tumor cells raises questions about the possibility of achieving tumor dormancy by counteracting angiogenesis (61-66). On the other hand, blood vessels can deliver nutrients and oxygen to the tumor microenvironment (67). The implementation of anti-angiogenesis can change the tumor microenvironment, so as to prevent the growth and metastasis of tumor, and induce a dormant state in the tumor cells (68). It is worth mentioning that the isolation of angiogenic factors lead to the hypothesis of inhibiting angiogenesis to block vessel formation and result in tumor dormancy (69,70). Involvement of angiogenesis in dormancy is key for the regulation of tumor growth in mice (71-73).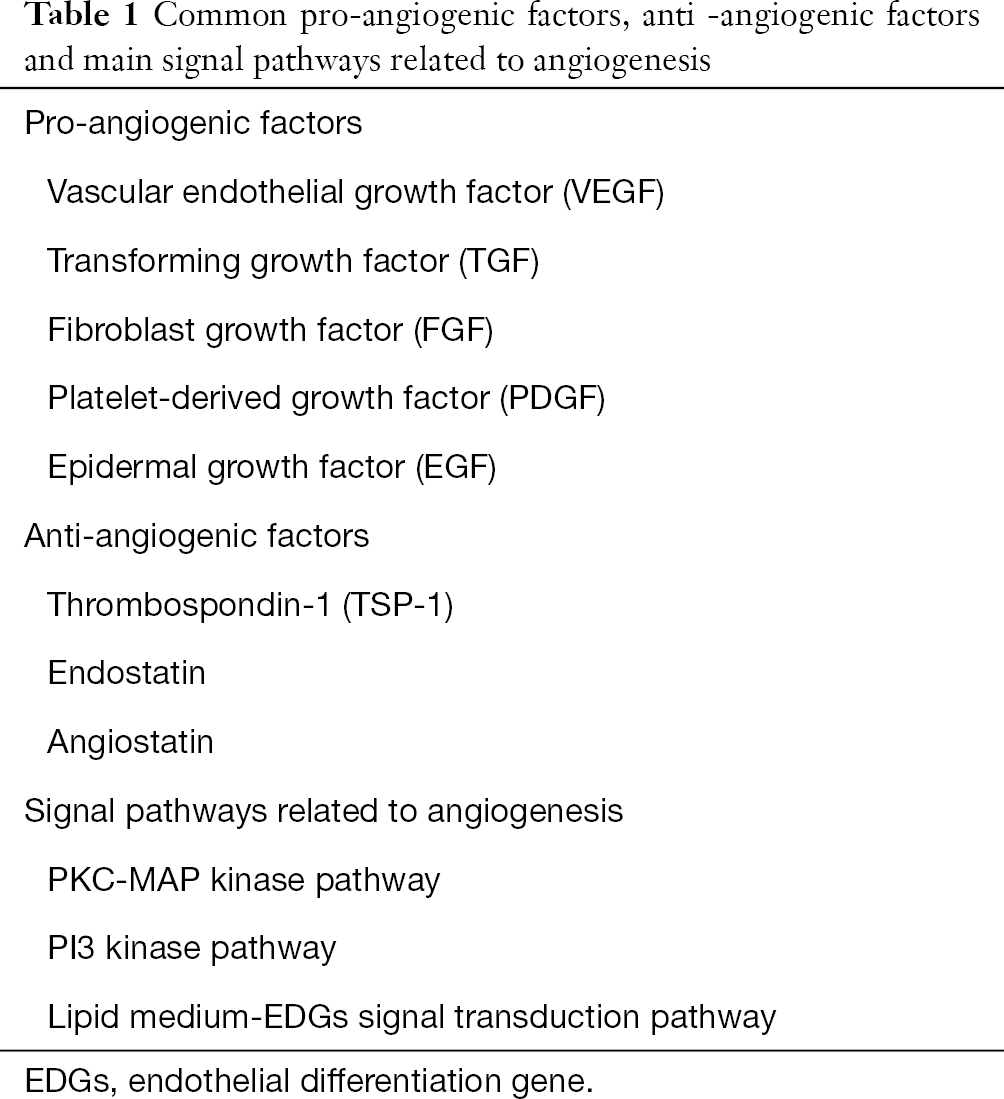 Table 1
Common pro-angiogenic factors, anti -angiogenic factors and main signal pathways related to angiogenesis
Full table
Further studies have shown that dormant tumor cells can secrete higher levels of thrombospondin, which has a strong inhibition effect on angiogenesis. Complex interactions between tumor cells and endothelial cells can control tumor awakening from dormancy. Angiogenesis plays an important role in tumor dormancy (74). Vascular dormancy is considered to be a kind of tumor dormancy. Vascular dormancy can inhibit the proliferation and angiogenesis of endothelial cells, regulate the balance between angiogenic factors and anti-angiogenic factors, make tumor cells withdraw from the growth cycle, maintain the resting state, and significantly inhibit tumor recurrence and metastasis.
It has been found that angiogenic related genes are the most functional genes in tumor cell dormancy. Platelet reactive protein, an endogenous angiogenic inhibitor, as well as angiostatin and endothelial inhibin binding protein, were found to be up-regulated in all detected dormant tumor cell lines. The increased expression of platelet reactive protein in non-angiogenic cells is mediated by the activation of PI3K/c-Myc pathway. To sum up, PI3K-mediated thrombospondin can inhibit tumor angiogenesis and inhibit tumor proliferation and metastasis (75). It has also been found that microRNAs, mediated by nano-carriers involved in osteosarcoma tumor-host interaction can inhibit osteosarcoma angiogenesis and induce tumor dormancy. These microRNAs include: miR-34a, miR-93 and miR-200c, which prevent tumor progression by reducing the mRNA levels of genes critical to tumor angiogenesis and cancer progression in general (76). Additionally, vitamin E succinate inhibits melanoma angiogenesis and promotes melanoma dormancy (77).
In addition to the above-mentioned factors that inhibit angiogenesis, there are also a large number of factors that promote angiogenesis in the human body. Neutrophil-derived MMP-9 was required for 14,15-EET to induce angiogenesis during the growth of dormant micrometastases. 14,15-EET could induce neutrophilic infiltration in metastatic lesions and the conversion of neutrophil function, thus triggering the growth of minimal dormant metastases. 14,15-EET promotes the growth of dormant micrometastases in a dose-dependent manner (78). Tissue factor (TF) is a risk factor for metastasis, and in mouse models, TF drives metastasis in a coagulation-dependent manner (79). In hypercoagulable state, TF increased, and tumor dormancy was affected by TFs. It has been found that the microenvironment orchestrated by TF expression drives permanent changes in the phenotype, gene-expression profile, DNA copy number, and DNA methylation state of the tumor cells that escape from dormancy. TF can promote tumor angiogenesis and transform tumor dormant cells into active proliferation, which leads to the recurrence of malignant tumor (80). Immature dendritic cells also can exert proangiogenic effects when infiltrating the tumor microenvironment (81).
Based on the above mechanisms, a large number of anti-tumor angiogenic drugs are introduced into clinic, such as: recombinant human endostatin injection, bevacizumab, apatinib, etc. Anti-tumor targeted therapy with anti-angiogenic drugs and their targets that block nutrient availability is a pillar of cancer treatment. This constitutes an opportunity to provide some evidence and/or propose new hypothesis about the mechanisms of resistance and efficacy in the context of target tissue, vessel and immune system, which is the following topic. For example, anti-VEGF monoclonal antibody reduced vascular density and tumor growth in mice bearing xenografts of glioblastoma multiforme, leiomyosarcoma and rhabdomyosarcoma (82).Another example is the efficiency of metronomic chemotherapy in lung cancer, leading to anti-tumor and anti-angiogenic effects without causing toxicity (83). However, the effect of their clinical application is not as satisfactory as that shown in animal experiments, which indicates that tumor angiogenesis is a complex process regulated by many factors and multiple signal pathways. Blocking a certain signal pathway alone cannot completely prevent the formation of tumor blood vessels. We need to further study the effect of anti-tumor angiogenic drugs promoting tumor dormancy.
---
Tumor dormancy is a clinical phenomenon related to immune equilibrium in the process of tumor immune editing
Tumor immune editing is a process in which the immune system controls tumor growth and forms tumor immunogenicity, including three stages: elimination, equilibrium and escape (84). Tumor dormancy is a clinical phenomenon related to immune equilibrium in the process of tumor immune editing (85) (Figure 2). When certain changes occur in some tumor cells, resulting in the inability of the immune system to fully recognize and remove them, they survive in the body. Because the immune system still has a certain monitoring function, these tumor cells do not proliferate rapidly into clinically visible lesions, resulting in tumor dormancy. Dormant cells have genetic instability, and a variety of mutations occur. After a period of accumulation, the cells are finally transformed into another phenotype, thus avoiding the attack of the immune system and rapid proliferation, leading to immune escape. Maintaining the tumor immunity in the equilibrium period will lead to tumor dormancy, tumor growth inhibition, and will not cause harm to the body for the time being (89).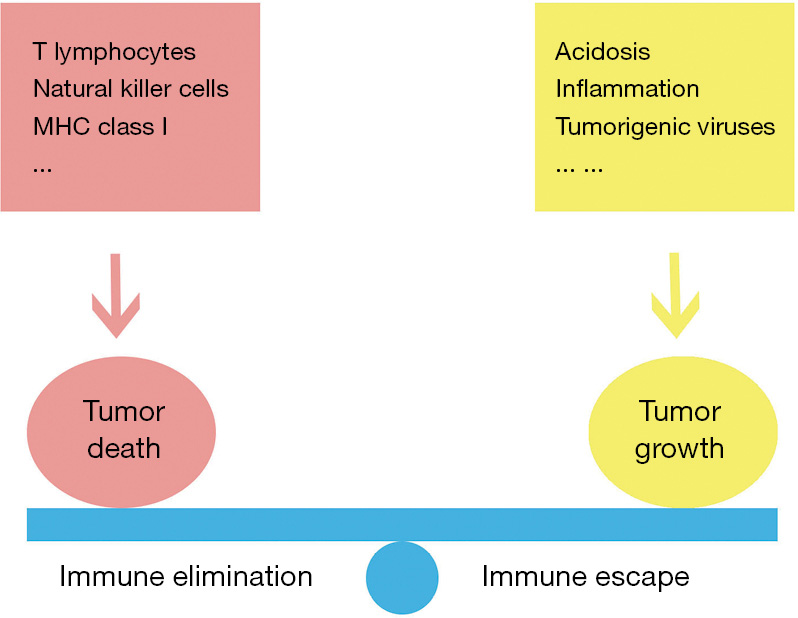 Figure 2
Immune equilibrium. When the immune system and developing tumor enter into a dynamic state of balance that controls tumor outgrowth, this period is called immune equilibrium. Immune equilibrium can be maintained for a long time, in which the tumor is dormant, but when the factors promoting immune escape are gradually increased, the balance is broken and the tumor cells enter the proliferative phase (
84
,
86
-
88
). Most of the current immunotherapies are designed to reduce immune escape by enhancing the body's immunity.
The immune system does a good job in promoting their permanent dormancy, through restraining disseminated cancer cells. After antitumor therapy, some tumor cells become senescent, a process known as therapy-induced senescence (TIS). The senescence-associated secretory phenotype (SASP) is a hallmark of TIS. Some senescent tumor cells can be regarded as dormant tumor cells, which can be restored to proliferate when the immune system is weakened (90-96). With excellent ability of recognizing intracellular antigens which are expressed by all tumor cell types, T lymphocytes functions significantly in maintaining immune equilibrium with metastatic dormant cells. The decreased duration of dormancy and shortened mean time for B cell lymphoma recurrence on the spleen has close relationship with the depletion of the CD8+ T cells, which could be found in a mouse model of tumor dormancy. This also suggests that via production of interferon (IFN)-γ, CD8+ T cells can facilitate the induction and maintenance of the state of dormancy. Avoidance of micro angiogenesis and promotion of hypoxic-induced dormancy could be realized by CXCL9 and CXCL10 produced by CD4+ T cells. A cytotoxic T lymphocyte (CTL) response could be elicited by the natural killer (NK) cells due to its activator function. The fact that a long period of dormancy in vitro and in vivo is included in perforin which was secreted by NK, has been observed. CTLs and NK cells can work cooperatively to eradicate cancer cells with or without class I major histocompatibility complex (MHC-I), and thus minimize the chance of immune evasion and metastasis. As a complementary to CTLs, NK cells kill tumor cells without self-markers by releasing perforin and granzyme B into the targeted cells. Immunotherapeutic interventions in metastatic dormancy may help to control or eradicate cancer disease (94,97-102).
A variety of situations can lead to immune escape. The immune system destroys tumor cells by recognizing antigenic determinants. When the antigenic determinants of a small number of tumor cells change, their immunogenicity changes, MHC-I lose expression. T lymphocytes cannot recognize tumor cells, and immune escape occurs. Through suppressing activation, proliferation and cytokine expression effects on T cells and inhibiting the phagocytosis of tumor-associated macrophages (TAMs), the PD-1/PD-L1 signaling pathway can limit the functions of T effector cells, NK cells, dendritic cells, TAMs, etc. So as to promote the possibility of tumor immune escape (103). Localized lactic acidosis has a strong immunosuppressive effect and mediates an immune escape of tumors (104). Macrophage migration inhibitory factor (MIF) is a pleiotropic cytokine that plays a key role in cancer. MIF is upregulated in neuroblastoma tissues and cell lines and it contributes to neuroblastoma aggressiveness and immune-escape (105). Inflammatory mediators and inflammatory cells in the inflammatory microenvironment promote the transformation of normal cells to cancer cells in the early stage of cancer, promote the growth and development of cancer cells, and induce tumor immune escape (106). Vascular endothelial growth factor C (VEGFC), an activator of lymph angiogenesis, is newly identified as an immunomodulator which can regulate the immune system so that tumor cells more easily escape immune surveillance (107). Many tumorigenic viruses can also cause immune escape. Epstein-Barr virus (EBV) miRNAs can inhibit the expression and presentation of viral antigens, inhibit immune activation and immunotoxicity, assisting host cells to escape from immunity, and providing conditions for further immortalized tumorigenesis of the host cells (108). In organ transplant cases, because the donor has occult cancer, the recipient can develop cancer in the transplanted organ over a period of months to years after systemic immunosuppression. The only survivor was a recipient with discontinued immunosuppression. These findings suggest that cells prone to tumor development might be in a dormant state, and dormant cells are activated when the receptor's immunity decreases and triggers immune escape (109-111). In patients with immune escape, the incidence and recurrence rate of cancer are higher. Therefore, we need to avoid immune escape as far as possible to prevent dormant tumor cells from re-entering the state of proliferation.
All other currently available cancer therapies are toxic with off-target effects, whereas immune cells could establish memory against dormant tumor antigens such as mutated tumor antigens, and keep them dormant for the lifetime of an individual (112). Therefore, the immune mechanisms controlling cancer progression have been the focus of intensive research. Through the study of immune mechanism, a large number of immune checkpoint inhibitors poured into the clinic. Antibodies that block the interaction between PD-1 and ligand PD-L1 have achieved remarkable clinical success in cancer therapy, and immunotherapy has become a hot spot in cancer therapy. However, a large gap exists between clinical efficacy and theory, and only a small proportion of patients show a lasting response to immunotherapy. Moreover, the degree of efficacy of checkpoint inhibitors is also varies widely among different tumor types. The extreme complexity, robustness, and plasticity of the immune system might raise many challenges, but it also leaves us with reasons for optimism as we anticipate the impact of breakthroughs in our fundamental understanding of immunology (113-116).
---
Conclusions
The important limitations of tumor dormancy research are the lack of appropriate experimental models and consistent and rich sources of dormant tumor cells. Dormancy is a hidden state, so it is difficult to observe and study directly. Although a variety of mechanisms have been proposed that may affect tumor dormancy, it is actually only a tip of the iceberg so far (75,117). The mechanism of tumor dormancy is so complex and diverse, and the field of tumor dormancy is just like a vast universe, which requires people to continue to explore.
By studying the effects of autophagy, angiogenesis and immunity on tumor dormancy, a large number of new drugs and treatments have been adopted into the clinic. At present, most drugs and treatments take effects mainly through two aspects: maintaining tumor dormancy or preventing tumor cells from entering dormancy during chemoradiation. However, simply interfering with one of the factors cannot achieve satisfactory results, since tumor dormancy is affected by a number of factors. At present, with the lack of biomarkers for tumor dormant cells, it is impossible to formulate a reasonable personalized treatment plan by monitoring tumor dormant cells effectively. Besides, the lack of therapeutic targets for tumor dormant cells also makes it difficult to completely eradicate tumor dormant cells. Should the two mentioned difficulties overcome in the future, we can better prolong the disease-free survival (DFS) of patients and improve the prognosis of patients.
---
Acknowledgments
Funding: This work was supported by grants from Ministry of Science and Technology of China, the Natural Science Foundation of China (81172537, 81272900, 81772828), Scientific and Technological Project of Guangdong Province (2016A020216028).
---
Footnote
Reporting Checklist: The authors have completed the Narrative Review reporting checklist. Available at http://dx.doi.org/10.21037/aob-20-46
Peer Review File: Available at http://dx.doi.org/10.21037/aob-20-46
Conflicts of Interest: Both authors have completed the ICMJE uniform disclosure form (available at http://dx.doi.org/10.21037/aob-20-46). The authors have no conflicts of interest to declare.
Ethical Statement: The authors are accountable for all aspects of the work in ensuring that questions related to the accuracy or integrity of any part of the work are appropriately investigated and resolved.
Open Access Statement: This is an Open Access article distributed in accordance with the Creative Commons Attribution-NonCommercial-NoDerivs 4.0 International License (CC BY-NC-ND 4.0), which permits the non-commercial replication and distribution of the article with the strict proviso that no changes or edits are made and the original work is properly cited (including links to both the formal publication through the relevant DOI and the license). See: https://creativecommons.org/licenses/by-nc-nd/4.0/.
---
References
doi: 10.21037/aob-20-46
Cite this article as: Chang Y, Chen J. Dormant mechanisms reveal the clinical significance of tumor dormancy: a narrative review. Ann Blood 2021;6:15.