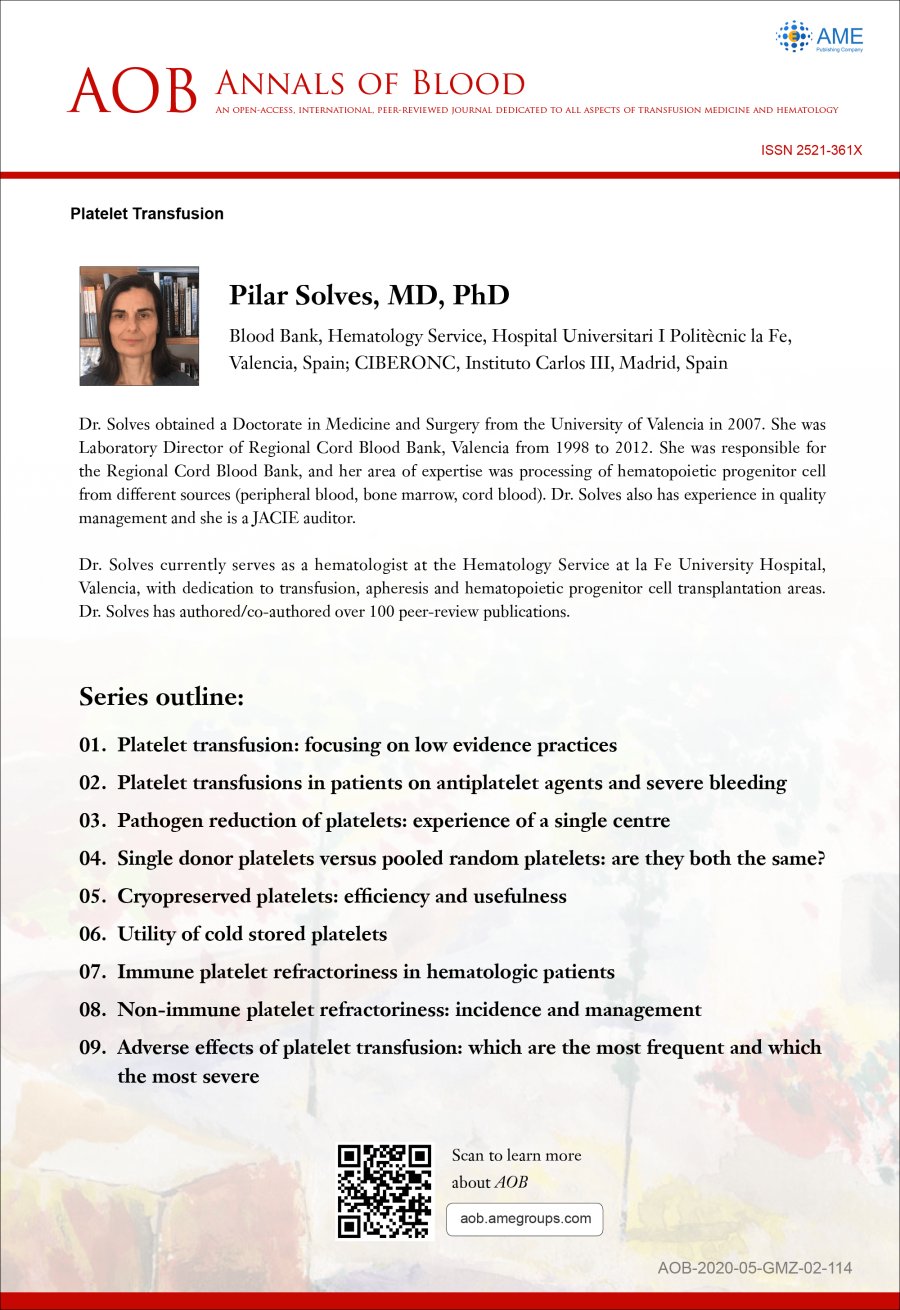 This Series on "Platelet Transfusion" is edited by Dr. Pilar Solves from Hospital Universitari I Politècnic la Fe, Valencia, Spain. The main objective of this series is to update the knowledge of different and specific aspects of platelet transfusion practice that are controversial or have low scientific evidence. We think this update could contribute to improve the platelet transfusion practice.
Pilar Solves, MD, PhD
Blood Bank, Hematology Service, Hospital Universitari I Politècnic la Fe, Valencia, Spain; CIBERONC, Instituto Carlos III, Madrid, Spain
Dr. Solves obtained a Doctorate in Medicine and Surgery from the University of Valencia in 2007. She was Laboratory Director of Regional Cord Blood Bank, Valencia from 1998 to 2012. She was responsible for the Regional Cord Blood Bank, and her area of expertise was processing of hematopoietic progenitor cell from different sources (peripheral blood, bone marrow, cord blood). Dr. Solves also has experience in quality management and she is a JACIE auditor.
Dr. Solves currently serves as a hematologist at the Hematology Service at la Fe University Hospital, Valencia, with dedication to transfusion, apheresis and hematopoietic progenitor cell transplantation areas. Dr. Solves has authored/co-authored over 100 peer-review publications.
Series Outline:
Platelet transfusion: focusing on low evidence practices
Platelet transfusions in patients on antiplatelet agents and severe bleeding
Pathogen reduction of platelets: experience of a single centre
Single donor platelets versus pooled random platelets: are they both the same?
Cryopreserved platelets: efficiency and usefulness
Utility of cold stored platelets
Immune platelet refractoriness in hematologic patients
Non-immune platelet refractoriness: incidence and management
Adverse effects of platelet transfusion: which are the most frequent and which the most severe
Disclosure:
The series "Platelet Transfusion" was commissioned by the editorial office, Annals of Blood without any sponsorship or funding. Pilar Solves is serving as the unpaid Guest Editor for the series.