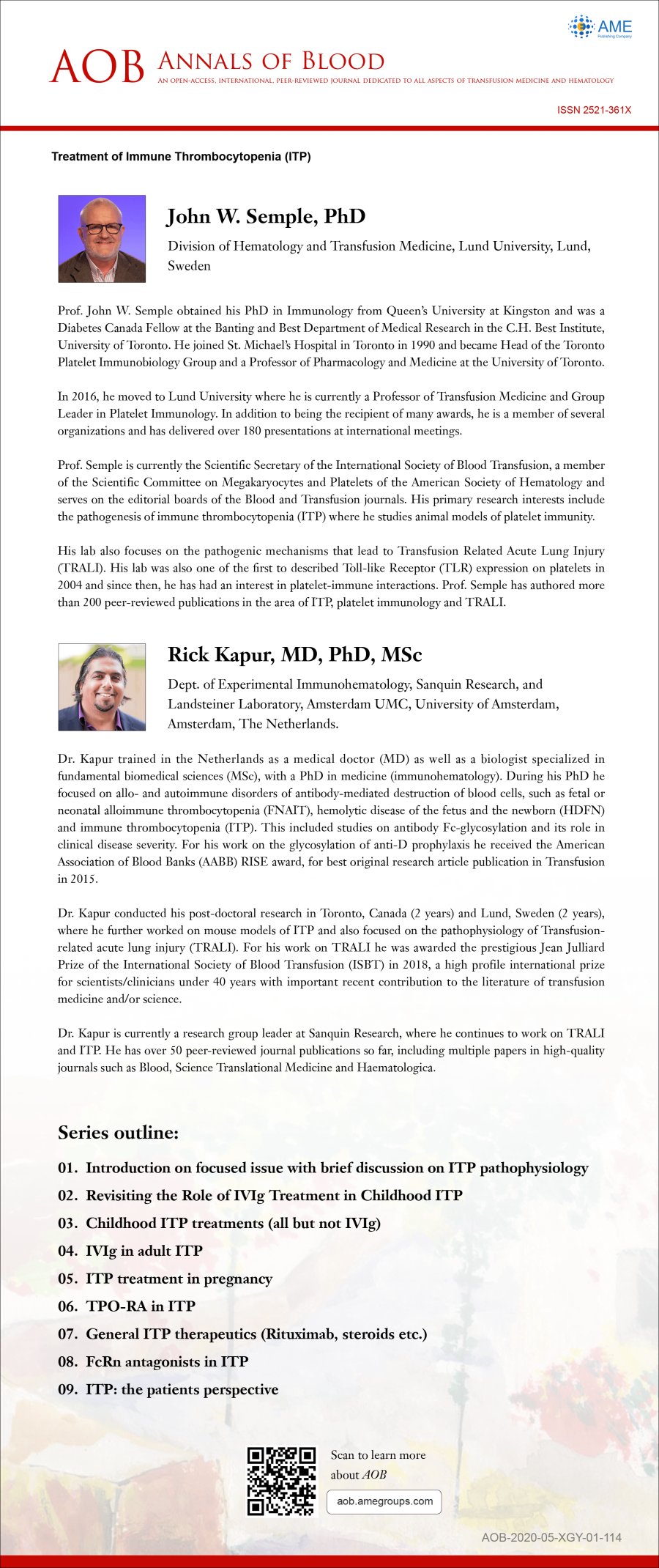 This Series on "Treatment of Immune Thrombocytopenia (ITP)" is edited by Prof. John W. Semple and Dr. Rick Kapur from Lund University, Lund, Sweden and University of Amsterdam, Amsterdam, The Netherlands.
John W. Semple, PhD
Division of Hematology and Transfusion Medicine, Lund University, Lund, Sweden
Prof. John W. Semple obtained his PhD in Immunology from Queen's University at Kingston and was a Diabetes Canada Fellow at the Banting and Best Department of Medical Research in the C.H. Best Institute, University of Toronto. He joined St. Michael's Hospital in Toronto in 1990 and became Head of the Toronto Platelet Immunobiology Group and a Professor of Pharmacology and Medicine at the University of Toronto.
In 2016, he moved to Lund University where he is currently a Professor of Transfusion Medicine and Group Leader in Platelet Immunology. In addition to being the recipient of many awards, he is a member of several organizations and has delivered over 180 presentations at international meetings.
Prof. Semple is currently the Scientific Secretary of the International Society of Blood Transfusion, a member of the Scientific Committee on Megakaryocytes and Platelets of the American Society of Hematology and serves on the editorial boards of the Blood and Transfusion journals. His primary research interests include the pathogenesis of immune thrombocytopenia (ITP) where he studies animal models of platelet immunity.
His lab also focuses on the pathogenic mechanisms that lead to Transfusion Related Acute Lung Injury (TRALI). His lab was also one of the first to described Toll-like Receptor (TLR) expression on platelets in 2004 and since then, he has had an interest in platelet-immune interactions. Prof. Semple has authored more than 200 peer-reviewed publications in the area of ITP, platelet immunology and TRALI.
Rick Kapur, MD, PhD, MSc
Dept. of Experimental Immunohematology, Sanquin Research, and Landsteiner Laboratory, Amsterdam UMC, University of Amsterdam, Amsterdam, The Netherlands
Dr. Kapur trained in the Netherlands as a medical doctor (MD) as well as a biologist specialized in fundamental biomedical sciences (MSc), with a PhD in medicine (immunohematology). During his PhD he focused on allo- and autoimmune disorders of antibody-mediated destruction of blood cells, such as fetal or neonatal alloimmune thrombocytopenia (FNAIT), hemolytic disease of the fetus and the newborn (HDFN) and immune thrombocytopenia (ITP). This included studies on antibody Fc-glycosylation and its role in clinical disease severity. For his work on the glycosylation of anti-D prophylaxis he received the American Association of Blood Banks (AABB) RISE award, for best original research article publication in Transfusion in 2015.
Dr. Kapur conducted his post-doctoral research in Toronto, Canada (2 years) and Lund, Sweden (2 years), where he further worked on mouse models of ITP and also focused on the pathophysiology of Transfusion-related acute lung injury (TRALI). For his work on TRALI he was awarded the prestigious Jean Julliard Prize of the International Society of Blood Transfusion (ISBT) in 2018, a high profile international prize for scientists/clinicians under 40 years with important recent contribution to the literature of transfusion medicine and/or science.
Dr. Kapur is currently a research group leader at Sanquin Research, where he continues to work on TRALI and ITP. He has nearly 50 peer-reviewed journal publications so far, including multiple papers in high-quality journals such as Blood, Science Translational Medicine and Haematologica.
Series Outline:
Introduction on focused issue with brief discussion on ITP pathophysiology
Revisiting the Role of IVIg Treatment in Childhood ITP
Childhood ITP treatments (all but not IVIg)
IVIg in adult ITP
ITP treatment in pregnancy
TPO-RA in ITP
General ITP therapeutics (Rituximab, steroids etc.)
FcRn antagonists in ITP
ITP: the patients perspective
Disclosure:
The series "Treatment of Immune Thrombocytopenia" was commissioned by the editorial office, Annals of Blood without any sponsorship or funding. John W. Semple and Rick Kapur are serving as the unpaid Guest Editors for the series.